Sometimes you need to provide encrypted traffic to your site. Besides proper configuration in web server you need to authenticate your server using some publicly trusted certificates, so your customer's browser won't show warnings about untrusted site.
One of the cheapest SSL certificate solution is ssls.com. Let's check their price for 3 year lease: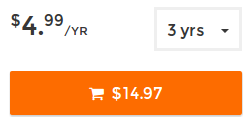 I used to pay $10 per year in the past for ComodoSSL certificates, this offer seems to cut the usual price in half. Sounds unrealistic? Let's check it!