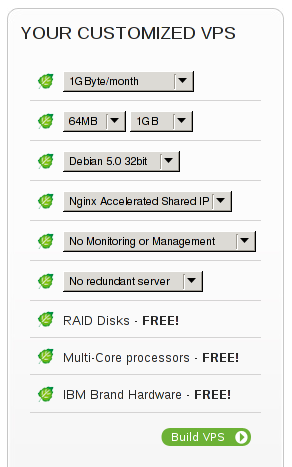 I believed dedicated server / VPS (Virtual Private Server) always requires dedicated IP adress. Until today.
I found (thanks, LowEndBox) interesting option where you can build your VPS totally custom parameters including shared IP address.How can it work? With shared IP? Youre joking! - you may ask. It works.
TOCICI offers "Nginx Accelerated Shared IP" wchich mean:
Your VPS will be hidden behind NAT like typical workstation
External Ngnix HTTP server will redirect HTTP traffic to your box based on URL domain
You can define custom ports to be forwarded to your box (SSH incoming traffic)
Pros:
Very cheap option (no cost of dedicated IP required, you can start VPS from 1-2 USD)
Security (by default no ports visible to external world)
Cons:
Standard ports except 80 (HTTP) unavailable: no DNS services
No HTTPS available (requires separate IP)
SSH login requires custom port (your local network may block high ports to prevent P2P)
The service fills gap between shared hosting and classic VPS. The only problem from my point of view is the distance between Europe and Portland, Oregon in the USA. 220 ms from Warsaw.