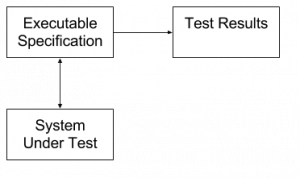 Executable specification is a "holly graal" of modern software engineering. It's very hard to implement as it requires:
Formal specification of rules
Transformation of those rules into real-system predicates
Stimulating system under tests state changes in repeatable manner
FitNesse is one of such approaches that specifies function sample inputs and outputs then allow to run such test cases using special connectors and provide colour reports from test runs. It's easy to use (from specification point of view), but has the following drawbacks:
Software architecture must be compatible with unit testing (what is very good in general: cut unnecessary dependencies, Inverse of Control, …) – your current system might require heavy refactoring to reach such state
Rules are written and evaluated only during single test execution – different scenario requires another test case (no Design By Contract style continuous state validation)
Above features are present in any other unit test framework: JUnit, unittest, … All such testing changes state and checks output.